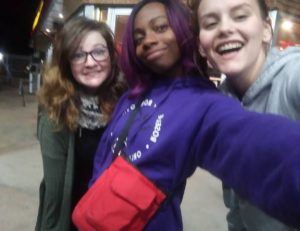 One of the best ways to level up in the hoop world is to attend "flow fests," flow fests are a weekend of workshops, performances, and skill shares between artists. So on a rainy weekend in May a few of our ladies headed up to Charlotte Michigan to Spinsanity Flow Down for circus fun!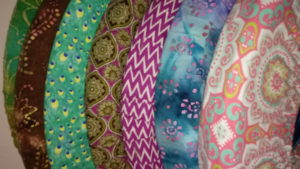 Jill was scheduled to teach a workshop on Hoop Geometry, so over one hundred hoops were packed up for students to use!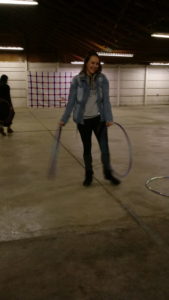 Usually flow fests happen outside, but because of the cold and the rain, Spinsanity was relocated and warm attire was required.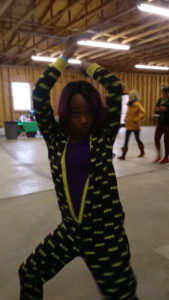 This event was filled with hoop celebrities! If you have seen a viral hoop video, chances are the artist involved was live at this event, and they preformed some of their most iconic videos live. It was such a treat to learn from and collaborate with some of the most creative and unique hoop talent out there.
Miss Mo Jangles performed a new piece live and our girl Rae had a cameo!
Miss Mo'Jangles – Flight Attendant Hoop Act

My new act, "Hooptown Airways"I debated posting this… it's still a work in progress and I'm performing it at more conventions this summer. But…this was so fun to do and the crowd at Spinsanity Flow Down was so incredible that I decided to share the joy I had performing this routine 🙂 I was literally so excited on stage that I blanked on some choreo at the beginning and almost hooped my fake ponytail off!I didn't do this alone, thank you Jesse Springer for creating this music track for me. Thank you Lori Rozzi for my 60's costume. Thank you Burnt Soul Clothing for my custom Britney Spears outfit. Thank you Spinsanity Flow Down for creating a safe space for performing. Thank you Derek Hoffman for the love and encouragement. Thank you Lee Jeffries for making me feel like a million bucks after I performed. Thank you Superhooper.org for the hoops! And thank you Mike Hayataka & Rae Trishé for being my propellors for this one. :)Most of all, thank you to the hoop community who inspires me everyday, and supports me. I get to live my best life, and it's fueled by you. I felt so much love this weekend and I've never had more compliments on a performance, so….thank you to everyone who was in the audience for this <3 #hooplove #hooptownairways

Posted by Morgan Jenkins – Miss Mo'Jangles on Monday, May 14, 2018
Rae also learned some tips to help with her handstands and her progress is notable! We can't wait to see how she incorporates these into her routines! All of the ladies upped their iso flower game thanks to the Mike Hayataka workshop!
Everyone was so busy learning and flowing there was not many footage/ photos taken but it was a weekend for the books!